OUR STORY
Founder Sandro Roco, a Queens-born Filipino American, was walking through a popular Asian supermarket in Manhattan's Koreatown.
There, he noticed a huge gap between the modern, clean labels of the new-age "American" brands and the preservative- and sugar-laden labels of the legacy Asian brands.
His goal was simple: celebrate high quality Asian flavors that for decades have been masked by added sugars.
Our Mission
Our mission is to bridge cultures by connecting people to authentic flavors.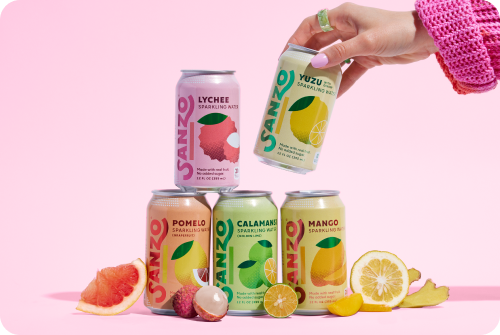 We're inspired by a multitude of watershed cultural moments: the success of several blockbuster films directed by or starring Asians and Asian-American Pacific Islanders (AAPIs), the rise of Korean pop music, and the ubiquitous influence of Asian popular culture on a global scale. Our goal was to create a beverage that represented this bridging of cultures, East and West. The 1st Asian-inspired sparkling water, Sanzo celebrates high quality Asian flavors using real fruit and no added sugars.
"Sanzo sparkling water is your next seltzer obsession."
"Calamansi sparkling water is the cure for seltzer fatigue."
"Sanzo is making waves in sparkling water."